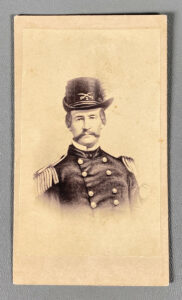 Outstanding collection of more than 80 letters (plus several post-war documents) from Edson Haskell, 1st Reg., New York Engineers, beginning with basic training at Camp Washington to his return to private life, November 1861 to November 1865.
Remarkable details and candid commentary about many Civil War related subjects, including first-hand accounts of the Battle of Fort Pulaski, naval engagements by monitors, deserters being shot, Fort Wagner (Morris Island) assaults, the 54th Colored Regiment, the Battle of Lynchburg — indeed, dozens of detailed battle stories. Haskell worked as an artificer under Major General David Hunter, who is mentioned many times in the letters. Also included is an original CDV of General Hunter (pictured at right).
Lot 135, The American Sale, March 18, 2023
This archive (Lot 135) is one of hundreds of historic American lots in Blackwell's March 18, 2023, American Sale.