Over the years, I've had to deliver not-so-good news to clients on housecalls. The usual scenario goes something like this: They show me some old treasure, and I tell them (very gently) that it's not worth what they thought it was, sometimes by a considerable margin. Their responses range from gratitude to hostility, with some wry resignation in between. Some are glad they can finally let go of something. Others shrug and give me the "oh, well" look. And some believe that either I don't know what I'm doing or that I'm setting them up for a lowball offer. Whatever their response, it's never much fun.
But sometimes I have the distinct pleasure of giving people good news.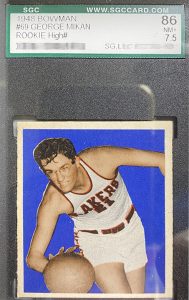 In November, a client of mine handed me a small plastic bin of basketball cards he'd collected during the early years of eBay, around 2000 or so. Among them were rookie cards of some of the game's legends: Jerry West, Wilt Chamberlain, Lew Alcindor (Kareem Abdul-Jabbar), Julius Erving, Pete Maravich, Bill Russell and, of course, Michael Jordan. Most notably, his collection includes a 1948 Bowman rookie card of George Mikan.
He and I have done business for quite some time, and I'd looked through this stack of cards — most of them graded — not long after he'd acquired them (for a total cost of around $4,000 or so, as I recall). Then he squirreled them away and hardly gave them another thought until earlier this year.
"These worth anything?" he asks.
"Give me a few minutes." I pick out two dozen and look up recent auction sales of cards with the same grades. (It's essential nowadays, despite what some "old school" dealers might tell you, to have grading done on important cards by one of the top-tier grading companies, most notably PSA, BGS and SGC.)
I look up with a smile. "What do you think?"
"I've no idea," he replies.
"Not including the Mikan rookie, these will hammer at around thirty grand or so. Mikan might bring $20k on its own."
As I expected, he didn't consign the cards to me that day. I was, of course, disappointed, but he doesn't need the money, and he and I both acknowledged that there's little chance of them dropping in value in coming years, especially given the current market for sports cards, which is scorching hot.
Perhaps I'll revisit the subject with him in the future. It would definitely be a privilege to run them through my auction. For now, though, it's nice to have been able to handle and appraise some iconic old cardboard, and to make someone's day.