About 20 years ago, I noticed that the antique mall booth next to mine was selling everything at half off. The booth was in a prime spot: a corner of the main aisle. And they were moving out. Seeing the opportunity to expand my 100-square-foot empire by colonizing more visible real estate, I approached the owner — a slightly intimidating, energetic dealer with whom I'd become friends.
I remember our conversation well because it was 1) abrupt and 2) one of the single most motivating moments of my early career.
"Hey, has anyone spoken for the corner booth yet?" I asked.
"No," he replied, "but I'm not going to waste primo space on a rookie."
A rookie. He was right, of course. I didn't know jack squat. But being called a rookie to my face really got my dander up. I decided on the spot that I'd research more, handle more, risk more, buy more, and sell more than anyone around me for as long as it took to go pro. All because of that smart-assed antique mall owner.
After a while, because I was one of the only dealers around who was an experienced seller on eBay, I started selling some of this guy's merchandise on consignment. Same guy — the antique mall owner. I'd sold plenty of items online by then, but I was still utterly green. One day he read one of my descriptions and went ballistic.
"How'n the hell don't you know the difference between coin silver and sterling silver?" he exploded. Then he sat down and talked to me for what seemed like two hours, after which I had a pretty good handle on What Every Dealer Should Know About Silver. I've learned a lot more since then, but never as much all at once. We did that same cram session with art pottery, china, crystal, art, figurines, jewelry, coins. He didn't know every dadgum thing, but he laid a solid foundation for me in each genre, showed me every trick, taught me every angle.
He was quite an avid gambler, this guy, and we played poker together with other antique dealers frequently. He was fearless at the table. Fearless, but not careless. And unpredictable. It was enormously hard to get a read on him. He talked the same, laughed the same, and talked the same trash whether he was holding pocket kings or 3-7 off-suit.
And he'd bet on anything. He opened a jewelry and antiques shop a couple of years after he closed the mall. I used to wander in, and if it was slow, we'd gamble on coin flips. It would start out easy — we'd flip a quarter for a dollar. (He always called heads. Always.) Then it got serious. Because he was really, really competitive. One day, when silver was around $40 an ounce, we flipped for silver dollars. I was up around seven Morgans and a couple of Peace dollars when he told me that's enough and get the hell out, he had work to do.
The first time I went to a Tampa Bay Rays game with him, I got a bright idea when the first batter from the opposing team stepped up to the plate.
"Bet you a dollar the first pitch is a ball," I said. My friend quickly pulled out a dollar bill.
"You're on. Gonna be a strike."
I forget who won the first bet, but we bet the next pitch, then the next, and by the end of the following inning, he and I had worked out rules and a fairly elaborate betting scheme, with different odds for the outcome of each pitch — calling a ball or a strike paid 1-to-1, a foul paid 2-to-1, ground out or pop fly paid 3-to-1, a hit paid 5-to-1, and a home run paid 50-to-1. We bet on nearly every pitch for the rest of the game. And wouldn't you know it, within about 10-15 pitches, our entire section was watching us bet, cheering us on. When I met him at the stadium for the next game, we both pulled wads of ones out of our pockets. We must've looked like a couple of guys heading to a strip club.
I couldn't care less about baseball, but I loved going to games with him.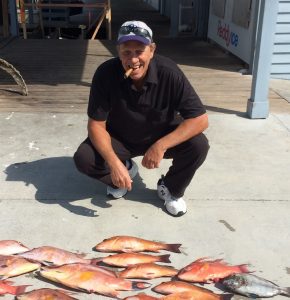 But he wasn't all betting and deal-making. I've known few people in my life more generous than that guy. And he didn't make a show of it. This one time, while I was filling in for one of the buyers at his shop, I noticed a scruffy elderly woman empty a small Ziploc of chains and buttons and whatnot onto his desk. I could tell from where I was sitting that the contents of the bag were worthless. But this guy carefully sorted the pieces as he laughed and joked with her, and listened to her talk about life. A few minutes later, he wrote her a receipt — as near as I recall — for $50. She thanked him, collected the money from the cashier and left the shop. As soon as the door stopped buzzing, he swept the pieces he just bought into the trash can under his desk. He did that — or something like it — quite a bit.
Another time, I told him that a group of families I knew were starting a non-denominational church. Anyone who knows this guy will tell you that he's not much of an organized religion kind of fellow. But as I was leaving his house the night I mentioned the new venture, he asked me if the church could use a donation. Anything would be great, I said. Running out of toner was a traumatic event at the church office. He reached into his pocket and pulled out some money. A few hundred dollars, as I recall.
"Here," he said, waving me away, "put that in the whatever, in the plate or whatever."
He never attended a single service there. Not while we met in a rented school auditorium. Not when we grew enough to rent a larger building. I don't think he ever knew — he never asked — if that money ever did any good. He just gave it. But Bridgepoint has grown to four campuses reaching thousands of people every week, supporting orphanages in Uganda and the Dominican Republic, furnishing homes for families transitioning out of homelessness.
Five years ago, he and I started Blackwell Auctions together. The old pro and the former rookie. It was the best of times, it was the worst of times. We laughed a lot, we fought a lot, and we did both as only friends can do. The evening we decided it was time to part ways, that hard-ass actually wiped a tear once or twice. So did I.
I'm doing it now.
I started writing this much more formally. But he'd be saying, "Oh, whatever!" and rolling his eyes. So I thought I'd just share a couple of stories about him, maybe give you a little idea of why I'll miss the guy.
My friend and mentor, John McNeal, passed away on February 2.
He was one of my favorite people.